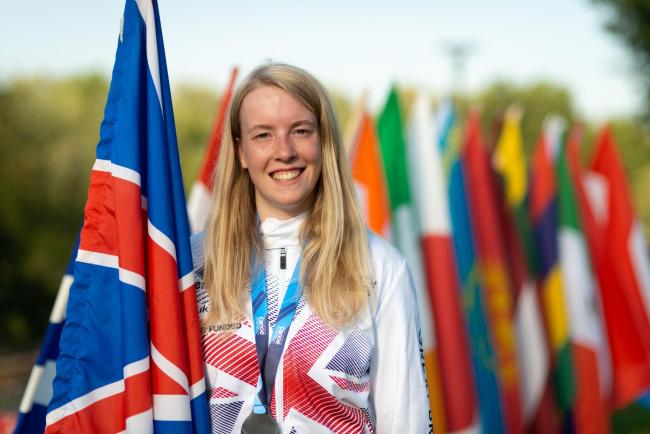 This summer I was away for 6 weeks straight in Europe! It all started at around 4am on a Monday morning when I got a flight with the GB Team from London Stansted airport to Milan airport in Italy. From then I had a week of training in Ivrea, Italy before the Junior World Championships started. It was great to get to go back to this course which I had visited for a few days on my 2017 summer trip. The first day of racing were the team events, and this was my first time properly racing in a team race. For those who don't know, in a team event you have three people in your team which all have to negotiate the course as quickly and cleanly as possible. We had a good run, there were a few mistakes but generally we were happy with it. Turns out it had been very good and we won a SILVER medal!!! I was so pleased with this achievement for my first World Championships. Over the next couple of days were the individual events with heats, semi-finals and finals. I was so pleased to have made it to the semi-finals and finished 13th in my individual event even with a roll at the bottom of the course – only three places off making the final!! I came away from the World Championships with a big grin on my face and loads more experience of racing internationally at a much higher level than I was used to.
Next stop was a few days rest in Venice with my family. Venice is a beautiful place with amazing food and fantastic photo opportunities around every corner. After this we continued to Bratislava, Slovakia where I would spend the next two weeks training with myself and dad, followed by a week of training with the GB Team and a week of racing for the Junior European Championships. Bratislava is probably my favourite international course and the course abroad that I have spent the most time at. 2016 was my first year paddling abroad and Bratislava was the first European course I paddled on. I have been there every year since and I love it! So the next two weeks were amazing, really getting used to the course again and having an amazing time both on and off the water. I got to race in the Bratislava Danube Cup where I made the final as well as getting to explore Old Town Bratislava and having a day trip to Budapest with friends. When the team came out, the training continued and we really started to focus on perfecting the key moves. Then it was time for racing again. After heats and semi-finals, this time around I qualified in tenth place and so made it into the FINALS!!! I was so pleased with this result, and if I'm honest it was a surprise! Obviously making the final was a goal, but actually making the final at the European Championships on my first year racing at this level of competition was a huge achievement for me! When it came to the final, I was really excited to be racing in it – it felt really special. I had a really enjoyable run and managed to improve on my semi-final result and finished in 9th place in the final. This meant I was 9th in Europe and top British boat!
I came away from my summer abroad with some amazing racing results which I was really really pleased with! Then, the morning after the last day of racing at the European Championships we got up nice and early at around 3am to fly home to Stansted airport from Bratislava airport. Once we got to Stansted, at around 8am, it wasn't quite time for me to make my way back up North. I had to make my way via trains and tubes to Central London – Kings College London Waterloo Campus to be specific – for a week long Sutton Trust War Studies summer school that I was attending. This summer school was one of the best weeks ever!! I had a variety of lectures from some of the top professors at Kings College London and some top tip sessions on university applications and university life. I even had a motivational talk from Action Jackson, a trip on the London Eye and a BBQ BOAT PARTY down the THAMES!!! This week was so much fun and really helpful in getting an insight into the university course I am interested in and I made so many new friends from all over the country.
At last…it was time to go home.
Below is my Semi-finals run from the World Championships and my Finals run from the European Championships.